What Are Dental Implants?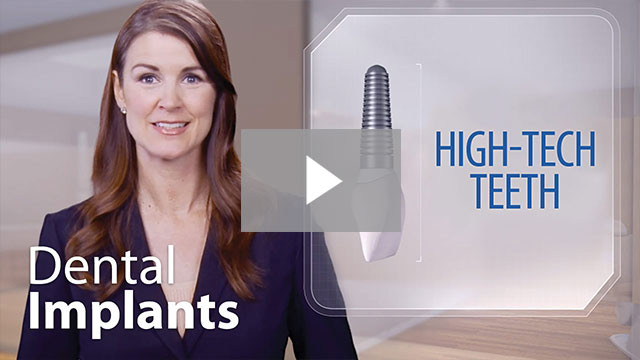 Dental implants are a biocompatible replacement for the roots of missing teeth. These titanium posts resemble a screw in appearance, and once anchored in the jawbone, can support prosthetics that replace the missing visible surfaces of teeth. Dental implants anchor prosthetics permanently so that patients with tooth loss can enjoy increased oral function and an improvement in the aesthetics of their smiles.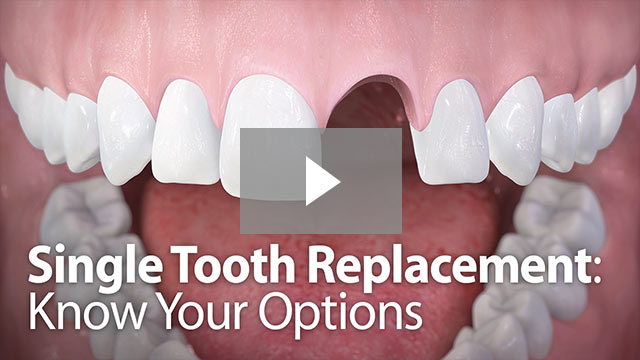 Single Tooth Replacement
A single dental implant is normally used to replace one missing tooth. With time, the bone surrounding the implantation site will literally fuse to the titanium post of the implant. This process of bone integrating to metal is one of the reasons dental implants make for durable and long lasting replacement teeth. After the implant is stabilized, the custom made prosthetic is attached via an abutment. The prosthetic for single tooth replacement is a custom dental crown, normally made from porcelain or porcelain fused to metal for its lifelike qualities.
Dental implants can also be used to anchor a bridge when more than one tooth is missing.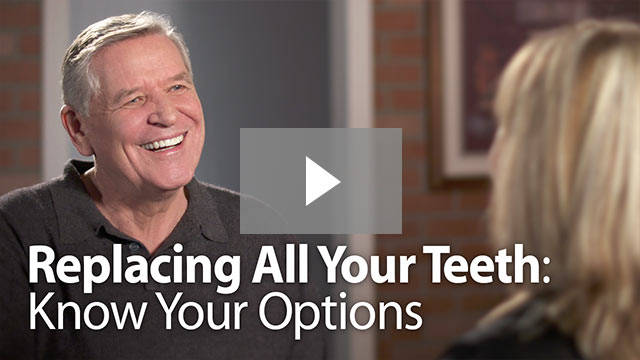 Full Arch Replacement
When a series of implants are placed, they can support a full arch of teeth. When a denture is anchored to implants, it will not move or slide throughout the mouth. Normally, a series of four dental implants are adequate to hold a custom denture permanently.
The Dental Implant Placement Process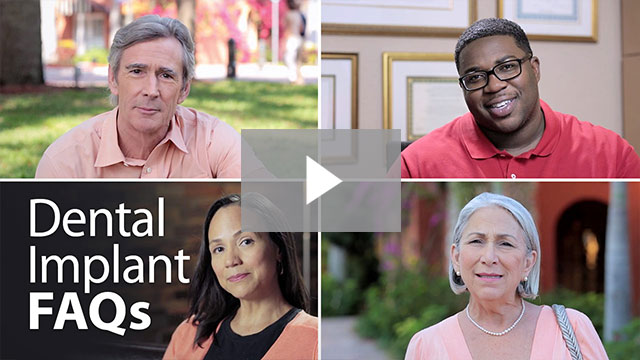 Receiving a dental implant involves minor oral surgery to place the titanium component into the bone. Normally, this procedure is not overly invasive and patients are comfortable with local anesthetics and/or mild sedatives. Before an implant or series of implants are placed, our prosthodontist will utilize advanced technology such as three-dimensional diagnostic imagery to plan the treatment process and develop a deep understanding of their patient's unique oral anatomy. By using the latest diagnostic technology and taking a highly customized approach to treatment, our patients enjoy high-quality smile restorations.
Related Dental Implant Articles
Dental Implants – Your Best Option For Replacing Teeth
Dental implants have many advantages over older methods of tooth replacement like bridges and dentures — from the way they function and feel to the way they look and last. Vigorous research has documented and confirmed that in the right situations, dental implant success rates are around 95%. It is no exaggeration to say that they have revolutionized dentistry. They may even change your life... Read Article
The Hidden Consequences of Losing Teeth
For those missing even one tooth, an unsightly gap is actually the least significant problem. What's of far greater concern is the bone loss that inevitably follows tooth loss. Dental implants fused to the jawbone can preserve bone, improve function and enhance psychological well-being. Learn how implants serve both as anchors to support replacement teeth, and preserve bone as one of the better preventive maintenance procedures in dentistry... Read Article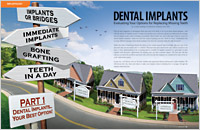 Dental Implants — Evaluating Your Options for Replacing Missing Teeth
As we guide you through the marketing hype you'll see that well planned implants most often require a team approach in assessing whether they're right for you. Not only are they a better treatment choice, they will last longer, possibly a lifetime, making them the right choice and the most cost effective option long term... Read Article
Implant Overdentures for the Lower Jaw
Implant overdentures represent a major change for the dental profession and the public. The lower jaw two-implant overdenture may be considered a more appropriate starting point over regular dentures... Read Article