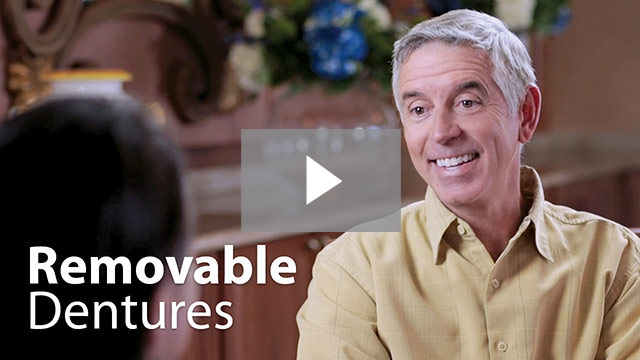 Dentures are used to replace missing teeth that can be taken out and put back into your mouth. There are generally two types of dentures available: complete dentures and partial dentures. The type that is needed can be determined by your dentist. Typically complete dentures are used to replace all teeth and partial dentures are used when you still have some of your natural teeth in place.
Dentures are employed so that patients who suffer from tooth loss because of periodontal disease (gum disease), tooth decay, or traumatic injury don't have to suffer the negative effects of not having teeth. Besides the obvious reason of eating, replacement teeth are needed so that remaining teeth do not shift and so that a sagging facial appearance does not give the impression of making one appear older than they are.
Dentures have a brief adjustment period and never feel exactly the same as ones natural teeth. However they are designed to be comfortable and functional and have a similar appearance to natural teeth, improving the smile and facial appearance.
How Do Dentures Work?
Depending on the type of denture you need, complete or partial, will determine how the dentures fit and function. Dentures are custom-made in a dental laboratory from impressions of your mouth that your dentist will take in a preliminary evaluation.
Complete Denture- Complete dentures contain a flesh-colored acrylic base that fits over your gums. The base of the upper denture covers the palate (roof of your mouth), and the lower denture is horseshoe shaped to accommodate the tongue. Complete dentures can either be "custom" or "immediate."
Partial Denture- A removable partial denture or bridge usually is made of replacement teeth attached to a gum-colored plastic base, which rests on a metal framework that attaches to your natural teeth. Partial dentures are used when one or more natural teeth remain in the upper or lower jaw.
Related Denture Articles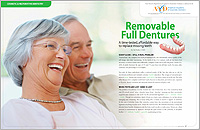 Removable Full Dentures
Complete tooth loss can cause a host of health problems, including malnutrition and bone loss. Though fixed bridgework may hold a higher place of reverence when it comes to replacing an entire set of teeth, removable full dentures can provide an elegant solution that is significantly more affordable... Read Article
Implant Overdentures for the Lower Jaw
Implant overdentures represent a major change for the dental profession and the public. The lower jaw two-implant overdenture may be considered a more appropriate starting point over regular dentures... Read Article